After homeschooling Boaz last fall, I wish I could say that I'm writing this post from a place of, "I've got this ladies, let me give you THE SECRET!"  But, I'd much prefer to speak from a heart of, "Here's what's worked for me, maybe it'll work for you OR maybe you're still figuring your jam out, and that's okay!"  The reality is that, the journey into motherhood for most entrepreneurs is filled with challenges and growth.  At the end of the day, you HAVE to do what works for YOU and your sweet lil family of 3-4 or whatever your tribe holds! Especially in light of EVERYTHING going on in 2020.
All of this said, I'd love to share what's working for me, in hopes of encouraging and inspiring other women who are rocking the nap time hustle!  Over the past 6 years, I've grown to realize one truth for myself…
"DO WHAT YOU LOVE AND GIVE AWAY THE REST."
So, what does this mean for me?  It means that, I decided when I got pregnant that I would only spend time away from my family to do what I LOVE, and I'd pass along the rest to those who specialize in and love the details.  I the past ten years, I've passed along our social media, blog, PR, marketing, accounting, bookkeeping, graphic design and even mentorship.  Why?  Because even though there was a season where I did enjoy doing ALL THE THINGS, those items are not a part of the calling I feel like God has laid on my heart.  He's called me to loving hard on my tribe of talented women that are a part of the Chancey Charm family. He's called me to share what I've learned in the industry to new and growing wedding planners.  And, that's it.  That's what get's me out of bed, ready to concur the day.  That's the stuff I don't mind missing a back yard kickball game for.  But the rest, it's best left to someone else.  You see, I know that if I did "All The Things", I'd become bitter about working and regret my decision to do the work + mom thing at the same time. Because I would be spending time

working my check-list vs snuggling on the couch with a new book.  And, in this season, I just can't let that happen.  Because, I'm balancing two incredible gifts, and I have to have boundaries to thrive.  So, again, this isn't for everyone, but it's working for me.  I'm doing what I truly love and giving away the rest.
WANT TO SNAG OUR FREE WEDDING PLANNER LAUNCH GUIDE?
5 KEY STEPS TO LAUNCHING A WEDDING PLANNER CAREER THAT PAYS – STOP GUESSING AND START PLANNING!
A few years ago, I went to bed laughing with my husband. Chancey Charm had just been named a Top Planner by Southern Living Magazine. I reminded him of the nights when I cried about stepping back from planning for our little boy, the FOMO was so real guys. And, I was so afraid that I was making a mistake. But, when I stepped back and let women who were WAY better than me, take over the PR, the social media, the blogging, the planning, the graphic design, the accounting, the bookkeeping… our brand + business expanded beyond my wildest dreams! God has a funny sense of humor doesn't He?
So, friend, please do me a favor and YOU DO YOU!
Rooting for you, always.
Sarah Chancey,
Founder + Wedding Planner Mentor, Chancey Charm
Your Wedding Planner Hype Girl!
I know making the leap into becoming a wedding planner can be scary. Here's a secret: Often, it's not the fear of failing that holds us back, but the fear of succeeding. (I know, crazy right!). Just know that the Planner Academy was created with you in mind, and I will be championing you every step of the way.

what other planners are saying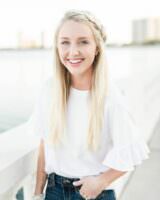 "Best money that I've spent! I am in the very beginning stages of opening my business and I just wasn't really sure where to start. After coming across Sarah's planner academy I was able to actually start getting my business up and going and now I am just days away from launching! I can't say thank you enough!" – Abigale Littles, Weddings By Abi

DON'T FORGET TO PIN THIS POST!