Every step of the wedding planning process from your save the dates to your thank you cards is an opportunity to personalize your wedding and connect with your guests. Your wedding reception is no different! From making your guests feel right at home with a cozy and inviting lounge seating area to ensuring your love story shines through personal decor touches, we're sharing Chancey Charm's top tips + bonus questions for a sophisticated wedding reception. Cheers!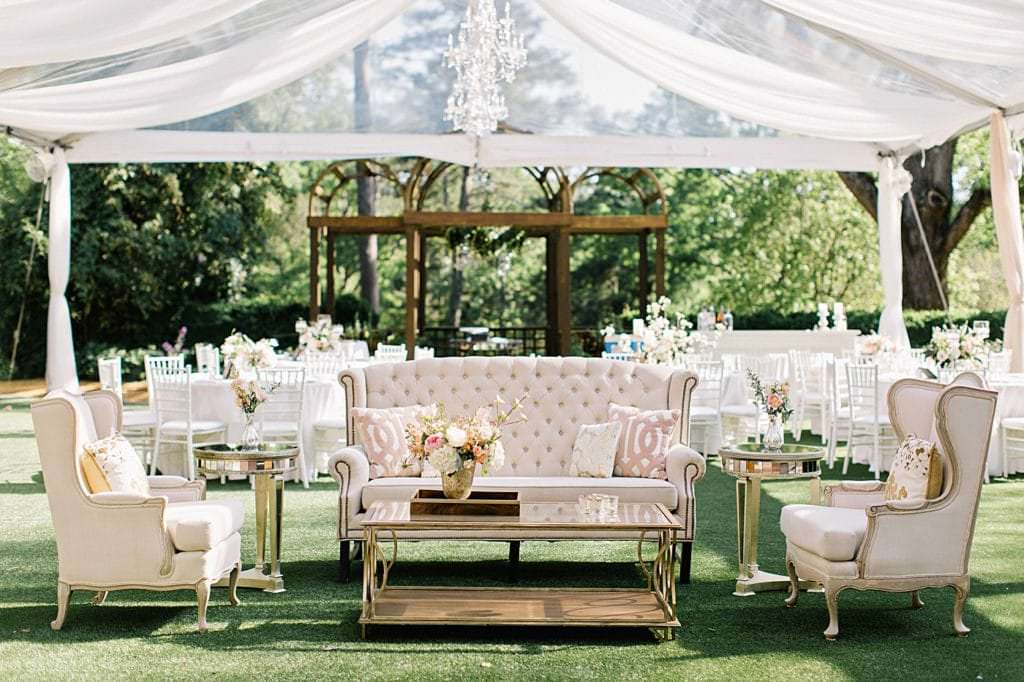 It is always important to write out the names of your wedding party and any family you would like announced at the wedding reception in the order you would like them announced. Be sure to go over them with the DJ prior to the wedding reception so that he/she knows how to properly pronounce their names.

Even if you opt out of the traditional seating chart, it is important to have the caterer place reserved signs on a few tables for the wedding party and immediate family. Otherwise, they will end up dispersed throughout the wedding reception after photos are complete. Asking your caterer to arrange a dinner for two in a private location before you are announced is also a great way to ensure you are able to eat before all the congratulations begin!
If you are looking for a few ways to make your wedding reception stand out, incorporating lounge furniture by the dance floor, bar, or at cocktail hour provides guests with a fun photo op and can incorporate your wedding colors. Offering a signature "his and hers" cocktail at the bar is a great way to remain connected to your guests. Finally, a midnight snack will keep guests entertained and is a great way to include a treat you two love, such as delicious pastries from a local bakery.
One last bit of advice is to keep the wedding reception schedule moving ahead, so as to avoid too much down time. Limiting your wedding reception to a maximum of four hours will allow ample time for a fantastic celebration and will ensure the majority of your guests remain engaged until your grand exit. For a late night crowd, simply invite them to join you at a local bar for the "after party".
Bonus Tips | Questions Pertaining to the Wedding Reception
The following questions will help you determine your preferences for your wedding reception, so even the smallest wedding planning details are considered well in advance.
What kind of an entrance would you like to have? Where would you like to enter?
Do you have escort cards or a seating chart? Where would you like them set up?
If not, where would you like parents, grandparents, and wedding party members to sit?
What songs would you like to use for the announcement of your wedding party, parents, grandparents, and the bride and groom?
What décor would you like and where would you like it placed?
Where would you like the guest book?
Who will be responsible for taking home your personal items, such as gifts, after the wedding reception?
What would you like to do with leftover flowers and food?
ARE YOU READY TO HAND OFF THE STRESS OF PLANNING OR DESIGNING YOUR WEDDING?