Over thirty-five years after her iconic wedding, Princess Diana's bridal fashion style is still inspiring today's brides. While puffy sleeves might be out, pretty jewels, lace and bows, and even colorful engagement rings are here to stay. Our Chancey Charm Dallas and Chancey Charm Boston planners were previously featured on Style Me Pretty sharing their favorite bridal fashion tips from Princess Diana, and today they're sharing even more below. Cheers!
-The Chancey Charm Team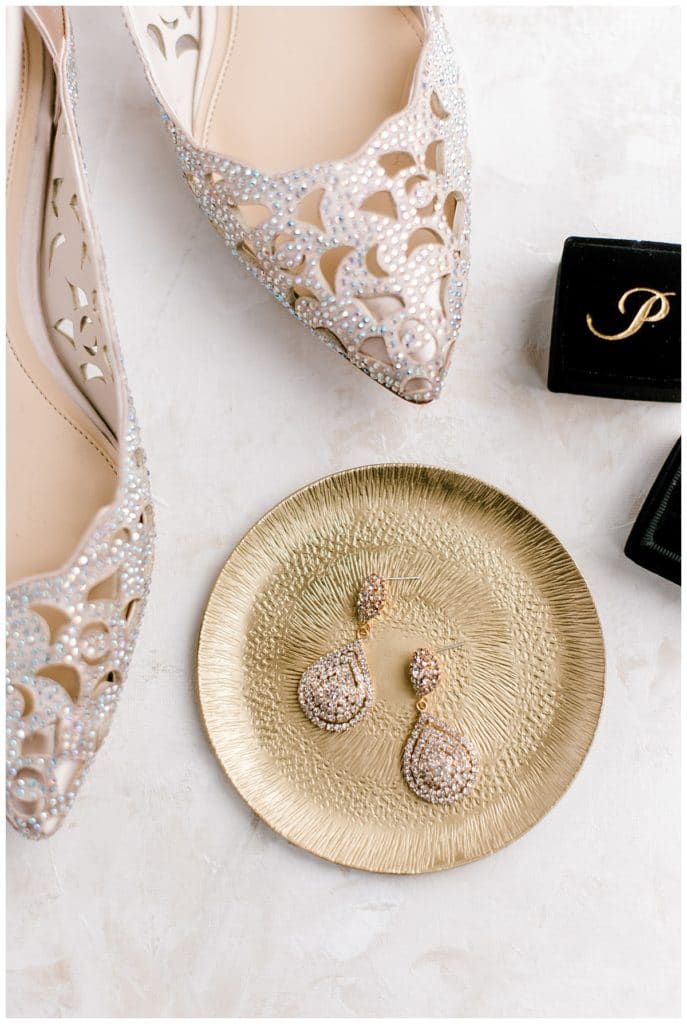 Borrowing Bridal Fashion Tips From Princess Diana
Princess Diana was known for taking risks, especially when it came to bridal fashion. Whether bold or subtle, she always kept us on our toes guessing what she would do, say or wear next. Brides wanting to channel her timeless style should keep that in mind. She didn't always do what was expected of her and we loved her for it! Add a little surprise into your wedding day look with sparkling accessories, removable cathedral train, or if you're bold enough, a fabulous tiara headpiece.
Her wedding gown itself made her a bridal fashion icon! Luxurious fabrics and textures combined with the flare of 80's style and a feminine silhouette, she looked both fashion forward yet classic and timeless. Trends in bridal can date your wedding, but there are ways to incorporate trendy items like long sleeves, non-white gowns, or removable skirts and still love your bridal look in 20 years. To achieve this, think less is more. The more trends you pack into that look the less timeless you will look. Stay true to the trends you wear in everyday clothing so you won't be too far out of your comfort zone.
Speaking of comfort, consider foregoing the heels and taking a page out of Lady Diana's book. Instead of donning some potentially uncomfortable stilettos, Princess Diana opted for a pair of designer flats fit for a princess. When you're going to be standing (and dancing) all day, know you can still be fashionable while also being comfortable.
Some of our favorite bridal fashion trends inspired by Princess Diana include bows. Her wedding gown featured multiple bows and the trend is still a go-to for classic brides – whether used subtlety or to make a statement!
Jewels of course! Princess Diana always elegantly wore a statement piece of jewelry, such as a tiara or a beautiful necklace. We think classic, statement diamonds and pearls, as she often wore, will NEVER go out of style.
Speaking of her jewels, her engagement ring, which is now Princess Kate's, brought back "something blue" into bridal fashion. That beautiful sapphire also brought back the trend that the engagement ring did not have to be a diamond! 
Princess Diana hid a horseshoe charm inside her wedding dress. Whether it is a locket, sorority lavaliere charm, or another good luck memento you have, think about carrying that luck with you throughout the whole day!
Along the same lines, get inspired by Princess Diana for your "something old" or "something borrowed" by incorporating some lace from your mom or grandma's wedding gown into your own. Lady Dina's wedding gown featured lace that dated back to Queen Mary's era!
ARE YOU READY TO HAND OFF THE STRESS OF PLANNING OR DESIGNING YOUR WEDDING?

LOVE THIS POST? PIN IT FOR LATER!