This month's Rising Tide Society topic is all about Growth, Scaling, & Collaboration. I'm so excited to be able to share my team management insight in the monthly guide (page 11), which I'm also sharing below! If you're a creative entrepreneur looking to grow your business, I highly recommend finding a Rising Tide Society chapter near you or getting started by following along with the monthly guides. From the essential systems and mindset for scaling your business to what to know before hiring employees, the Rising Tide Society team is dishing out some excellent team management tips for wedding professionals and creatives this month! Enjoy my snippet below. Cheers!
-Sarah Chancey 
I've learned a lot in six years, the hard way. Why? Most likely because I'm stubborn, decisive and passionate. I make decisions quickly, overload and then realize I can't do it all. A lot of the mistakes I've made involve how I've lead (or rather not lead) my team. Six years in, and I FINALLY feel like I'm getting in a groove with team management, mentorship and the constant flow of team members coming and going – not just for career reasons, but LIFE happens. Managing a business with 12+ women every month is a blessing that requires routine and organization. Here are two of my favorite tips for team management.

Photo: Kristen Joy Photography
Top 2 Routine & Organization Tips I Swear By For Team Management
Regular Contact: Make it a point to email your team weekly with updates (one email over several small ones throughout the week is our preference). Also, be sure to reach out to them personally to check in at least once a month. Finally, a personal quarterly team management call with each associate or team members keeps you connected to their goals, current feelings and how you can best serve them.
Create Community: Even if you don't work in the same space on a weekly basis with your team, creating a sense of community or a place to collaborate with like-minded creatives and gain encouragement + accountability is key to a healthy team. Creating the freedom for your team to share PERSONAL AND PROFESSIONAL updates + ask questions fosters a positive work environment, even remotely. Be sure to set the stage for healthy, uplifting conversations and establish a NO GOSSIP policy within team conversations.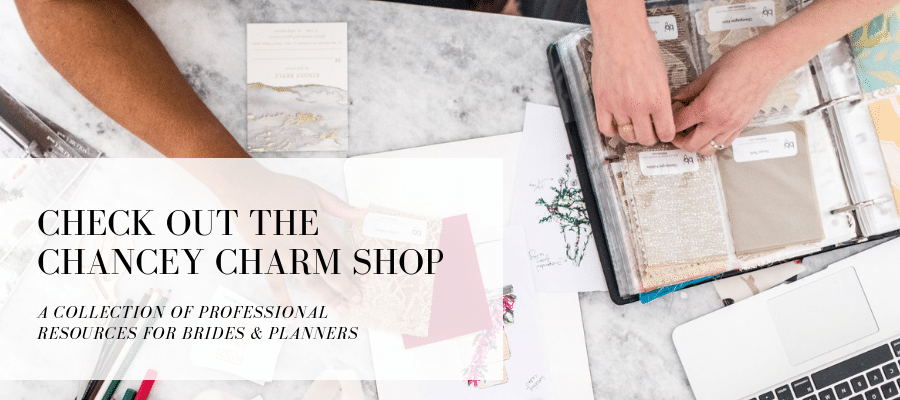 GroupMe is a great way to stay in constant contact for quick questions and life updates. Hosting a monthly team management meeting via a tool like Zoom or Skype gives you space for face-to-face updates and group learning. Encourage different associates to share what they are currently learning with the team on the call. Finally, hosting a monthly team "happy hour" video call where associates can just connect on a personal level "face-to-face" with unscheduled time is a great way to foster community.
Looking for more? Check out my wedding planner training center, with lots of fun freebies here!
Happy Team Management Friends!
Sarah Chancey
Founder, Creative Director – Chancey Charm
LOVING THIS POST? DON'T FORGET TO PIN IT!
Disclaimer: Occasionally I do share an affiliate link in my content.  This means that if you click a link and purchase a product, I receive a little bit in return.  This allows me to keep creating quality, free content. But, please know that I only share things I absolutely believe in!
SaveSave
SaveSave
SaveSaveSaveSave