Today on the blog, the Chancey Charm team is sharing their top tips and mistakes to avoid when planning evening weddings. This includes ideas like putting your vendors up in a hotel the night of your wedding if they're traveling a long distance. Some vendors, like bands and photographers, might even have this built into their contract.  These are important details, that need to be factored into your budget. As featured on SheFinds.com. Enjoy friends!
-The Chancey Charm Team
Photo: Haley Sheffield, Planning: Martel Event for Chancey Charm
Things to Consider When Planning a Late Night Wedding
Don't forget to check the town or venue noise ordinance. Many venues or towns have a 9 pm or 10 pm stop time on entertainment or noise. So, you'll need to factor in these hard end times and work backwards from them when making your timeline for your evening wedding and reception.

A common mistake brides make is not checking to see what time the sun sets and scheduling the day accordingly. You might not be set on doing a first look, but it might be imperative in order to get all the photos you want in good light! If you're having an outdoor reception, make sure that you have plenty of lighting set up for dinner and dancing by the time the sun goes down. Your photographer will thank you! 

Adding to the above, many venues prefer having the band or DJ face a certain direction or set up in a certain place to help combat excessive noise, so it's important to double check to ensure that your party that was supposed to last all night doesn't have the plug pulled before it even has a chance to get started.

Don't make the mistake of not booking guest rooms. Having an evening wedding will mean guests will be drinking late, and it's always a good idea to have a place for guests to go and spend the night if needed. Someone will always over drink and not plan on it, so it's better safe than sorry!

Similar to the above, always have back up transportation as well, such as Uber for guests who need a designated driver. And for guests who will be traveling to the hotel, book a shuttle from your reception to the hotel (but make sure cars can be left at your venue). If not, have them leave their cars at the hotel first when they check in, have the shuttle bring them to the wedding and then take them back after the reception.

Wedding attire is important! Evening events are traditionally more formal than daytime weddings. Please list the dress code on the invite and on your wedding website for guests so they are comfortable and dressed correctly for your style of wedding. 

And because guests will most likely assume that they are required to dress more formal than a daytime wedding, if this is NOT your vision and you're going for a more laid-back atmosphere, clarify that on the invite and your wedding website.
DON'T FORGET TO PIN THIS POST!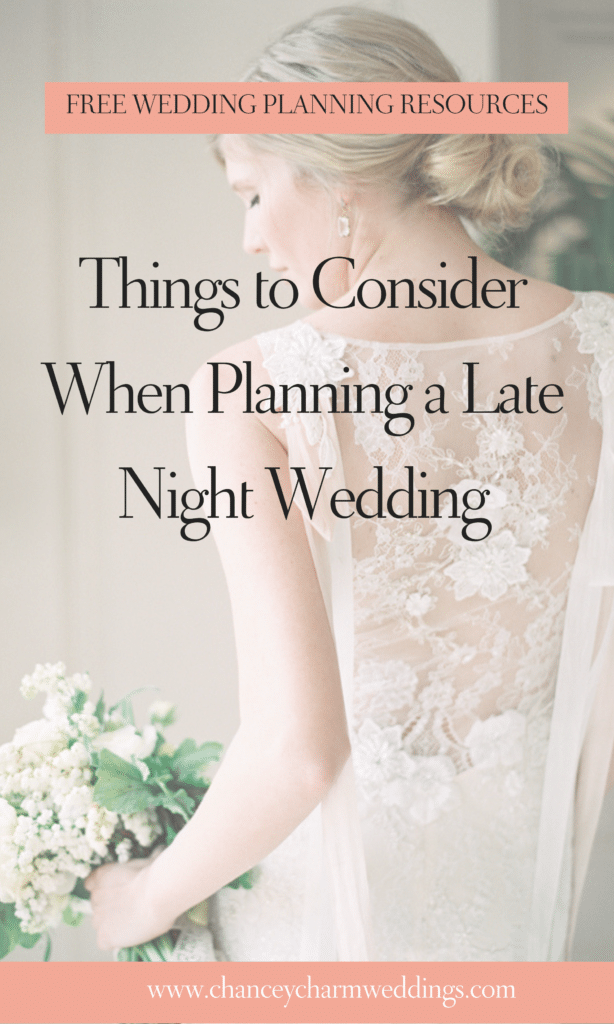 Do you have any wedding planning advice questions you'd like us to answer or more tips for brides planning a late-night wedding? Let us know in the comments below! Cheers, friends!
Are you a bride on a budget who needs the advice of a professional wedding planner?
Or are you a destination bride who isn't sure which vendors are right for you? Or how much to budget for your big day?
Or maybe you're a Type-A bride who can handle most of the planning yourself, but can't make a decision about which direction you should take with your design scheme?
Well friend, you're in the right place! Our 1-On-1 Virtual Wedding Planner Sessions make accessibility to a professional wedding and event planner easy and affordable.