When it comes to your "Something Old," we love tying family heirlooms and meaningful decor pieces into your overall wedding experience. From toasting with antique champagne coupes that have been passed down from generation to generation, or adding a little ambiance to your reception with your grandmother's vintage quilts, incorporating these sentimental pieces makes your wedding day that much more memorable + sentimental. The Chancey Charm Wedding Planners are sharing 10 ideas for incorporating family heirlooms into your wedding below. Enjoy friends!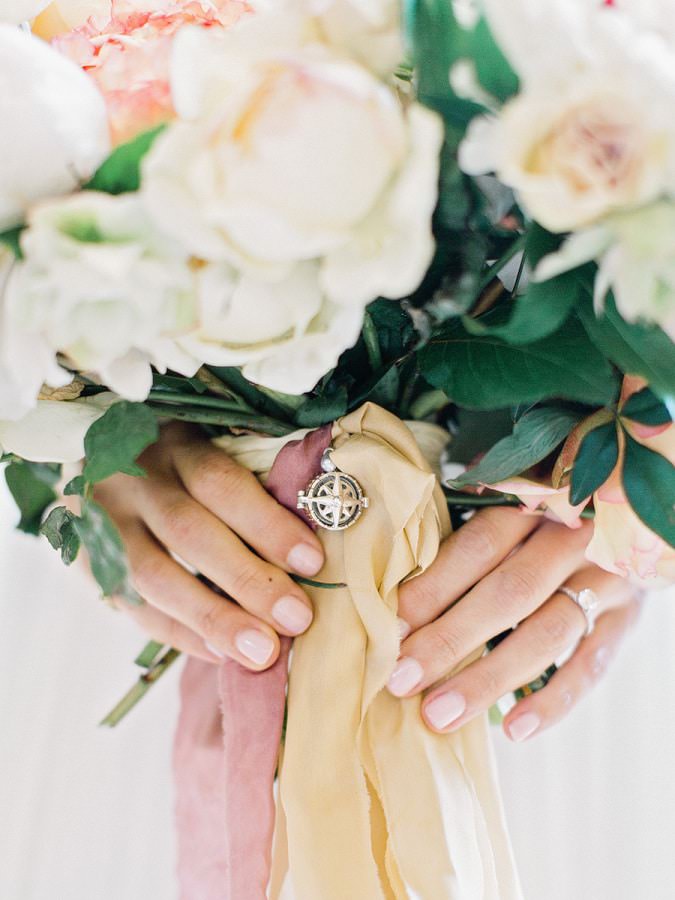 Photos are always amazing to bring from home as they make the day feel more personal! Photos of you and your soon-to-be-spouse from dating days, family photos, even photos of your pets! Plus, photos are always great conversation starters for guests.
Lots of couples want to share pictures highlighting their family or their own love story. While you're at it, gather a group of frames from your own home for the display. To keep it cohesive with your wedding style, consider using the same color story, neutrals, or mixed metallics.
A fun reception game – you can always use great grandparents', grandparents' and parents' wedding photos and see if people can guess who is who!
If you have a beautiful throw or blanket you adore, bring that and throw it over lounge furniture – same if you have amazing throw pillows. It will dress up the area and make it feel more personal.
If you have a handful of heirloom quilts or blankets, consider styling them in a bin around the dance floor for guests who aren't dancing the night away to stay warm. Bonus points for including a fun sign that says, "wrapped in love."
At a recent wedding, the bride brought her grandmother's antique velvet chair that has been in the family for over 100 years. It was stunning and she did some bridal portraits with it, and guests sat in it and other family furniture, around a fireplace at the venue. It was very 1800s and glamorous!
If your family has amazing china, or even linens, bring them! We had a bride use her families beautiful lace tablecloths for the cocktail tables and the cake table.
Wrapping your bouquet is always a good sentiment and you can use anything to do so, such as a family watch, brooch, bracelet, necklace or even a rosary!
Also, as heirlooms often include pieces of jewelry, while you use the original heirloom you can have your girls wear cloned pieces that look just like it!
And finally, bringing other knick knacks around the house that make your home unique is a great way to make sure your wedding reflects who you are as a couple!
ARE YOU READY TO HAND OFF THE STRESS OF PLANNING OR DESIGNING YOUR WEDDING?
DON'T FORGET TO PIN THIS POST!