In today's Chancey Charm Cape Cod Wedding Vendor Highlight, we are chatting with Paige Piper from Chatham Candy Manor.  They provide tastefully arranged, delicious chocolates and treats for wedding favors and welcome bags, that can be customized to fit your needs. We're excited to be chatting with her about how she got started in the wedding industry, her planning advice for new brides and more. Enjoy friends!
– The Chancey Charm Team
Name
Paige Piper
Hometown
Poland, Maine
What's your area of expertise?
Wedding Favors, and Welcome Bag Treats!
First job you ever landed?
Right out of college I got a job in Oakland California fundraising for a wonderful nonprofit that focused on creating STEM programs for underrepresented students of color. Then the Level Playing Field Institute, now SMASH is an incredible organization.
What bought you to the wedding industry?
My husband Robbie is from Chatham and grew up at the Candy Manor, he loves this place. When the opportunity came up to run a small business on the Cape that involved chocolates and happy customers we thought nothing could be sweeter!
A lesson you've learned the hard way in the wedding industry?
Flexibility is important, but there's such a thing as too much. Waiting until last minute is too stressful for everyone involved. Planning ahead and establishing processes is really important for smooth execution.
Favorite way to spend a Sunday afternoon?
A walk in Nickerson park with our perfect pup Mosby!
Best piece of advice to someone new in the wedding industry?
While my husband and I are both new to the wedding industry, the Candy Manor crew is well seasoned. Their advice, focusing on the highest quality product and customer service will always lead you the right way.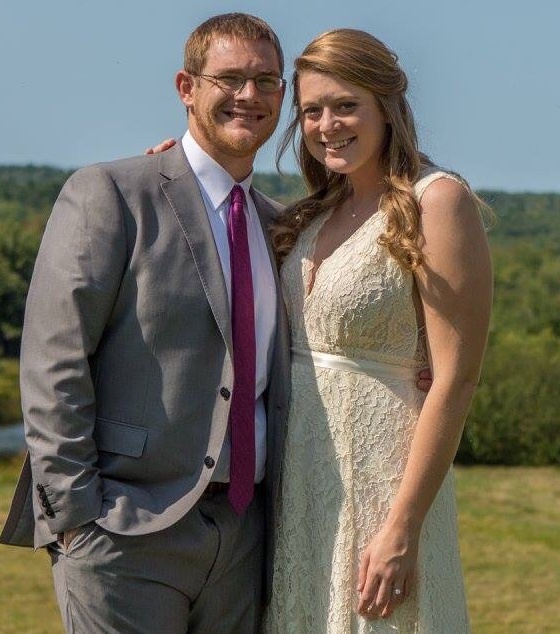 Photo: Paige & Robbie from Chatham Candy Manor
Best piece of planning advice for a new bride?
Try and have as much fun as possible planning. This is such a fun time in your life and while it can be stressful, the planning process is a great time for making memories with those you love the most!
Some words you live by?
No act of kindness, no matter how small, is ever wasted.
Best tip for balancing work + home life?
Still working on this one, but I find the more I'm present in the moment at work, and at home with my loved ones, the happier that I am overall.
Guilty pleasures?
French fries, The Bachelor, & chocolate covered oreos.
Favorite Instagram account?
Chrissy Teigen.
What's your favorite aesthetic?
Industrial, open, lots of wood.
Intimate pr Par-tay? What size wedding would you recommend and why?
Everyone is different, but I tried to follow this rule and always recommend to friends, you should invite the people that you'd be happy spending a couple minutes with on your wedding day. Since the day is a flash, time is important.
What's the first thing a newly engaged couple should do?
Enjoy time together being engaged and celebrating with those you love.
Learn more about Candy Manor here + follow along on Facebook and Instagram. Cheers!